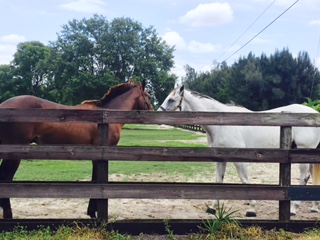 The town of Southwest Ranches has hundreds of wealthy residents that live here, from business people to professional athletes and movie stars for a town with an estimated population of 7,582.
Are you looking for this home town feel ( great land space ) Big Mansion? Click on the link below for the homes in this city.
Southwest Ranches homes have gated Estates with circular driveways and large backyard glimmering pools with the land size averaging between 1 and 10 acres. Land is one of the amenities that people love. They also love the peacefulness! There are no traffic lights or sidewalks, although you will hear the peacocks, and you will discover the geese crossing the streets, see nurseries, enjoy the horses playing, and the cows standing in the nearby canals.
Are you looking for a Realtor who knows this area? Call 954-557-5993
There is a plentiful amount of residents who have made a living farming and raising cattle, living in modest ranch style homes with tractors and mounds of fertilizer in their backyards. The water to most homes is well water and septic tanks are the norm. Salt is added to the Purification tanks to take away the iron from the water. Southwest Ranches starts on Griffin Road and Flamingo Road to Sheridan Street back to State Road 27 covering a range of 13 square miles. Click the link: Southwest Ranches homes for sale.